Sign-ups are closed for the Tri-County Fair, but we still need a few people. If you are able to serve, please show up and drive around to the volunteer lot, then follow the signs to the volunteer check-in.
We Need You! The Tri-County Fair is a community event sponsored by Christ Church and other invaluable corporate sponsors. One of the major purposes of having the fair is to provide a safe, fun, family event for the entire region and we can't do it without you!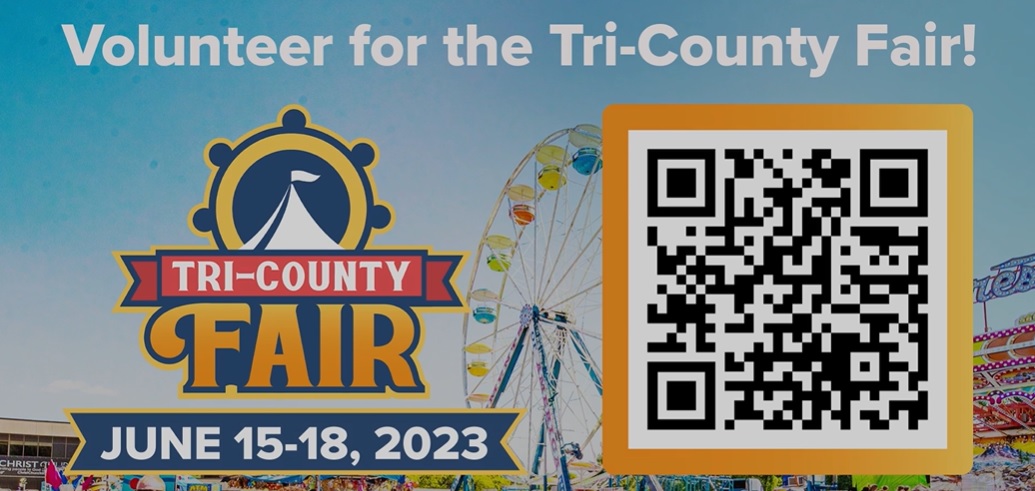 Shifts are:
Thursday 5-8 and 7:30-11:30

Friday 4-8 and 7:30-11:30

Saturday 1-5 and 4:30-8:30 and 8-11:30

Sunday 12-4 and 3:30-7:30

(Parking has an extra shift each day starting 2 hours before 1st shift)
Would you consider volunteering to help serve the community at the Tri-County Fair?
If you would like to volunteer at the fair and are:
Friendly and hospitable towards others;
Available for time slots of 3-4 hours on the days of the fair
Can my children volunteer with me?
Your children ages 12 and over can volunteer with you, depending on the area assigned. If they are 12-15, please just make a note in the comments box that your child (and list child's name and age) will be serving with you. If they are 16+, they can sign up separately and won't need to serve with an adult present.
If your children are aged 11 and under, please arrange for them to be supervised by someone else while you are volunteering.
What time do I need to arrive?
Please arrive at the time of your shift. Please allow a few minutes extra for parking and traffic.
Do I need to be trained?
Yes. However, you will be given your training on-site prior to the start of your shift. Kindly arrive promptly when your shift starts so you have enough time to receive this training and be confident in your role. We will also be creating some training videos to cover the basics of your role, so you will receive those closer to the date of the fair.
What will I be doing?
There are many areas that need to be staffed by volunteers. From parking to tickets and game booths, your area will be assigned according to the day(s) and time(s) you select.
How many volunteers are needed?
Over 700 volunteers are needed during the course of the fair to handle over 25,000 attendees! That is why we need your help!
When will someone contact me?
We will start confirming and contacting all volunteers about a week after you sign up. If you are signing up within a few weeks of the fair, expect to hear from us soon.